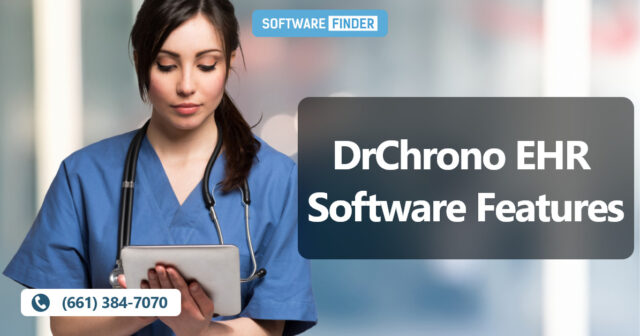 DrChrono EHR software has a number of features that will make your life easier as a healthcare professional. These features include Advanced e-prescribing tools, HIPAA compliance, and customizable charts and templates. You can also use patient reminder technology with this software.
Advanced e-Prescribing Tools
DrChrono is a leading provider of EHR, practice management, and revenue cycle management software. Its latest release, version 6.1.0, is tailored for medical practices and larger physician groups. Its advanced e-prescribing tools improve patient safety and reduce the chance of errors. The software includes advanced tools for calculating patient eligibility, managing medical records, and generating e-prescriptions.
DrChrono is available in various packages and pricing options, with different features for different types of practices. Besides its advanced e-prescribing tools, the EMR has many other features that can help doctors improve their practice. It also includes a billing module, which receives data from the EMR. Detailed information about each patient's billing and insurance bills is available within the software.
With the use of DrChrono e-prescribing tools, physicians can easily generate prescriptions, including compound and single prescriptions. They can also save their favorite lab tests and medications. Most software vendors also allow physicians to import their patient's medical history from their pharmacies.
DrChrono EHR Software features also include an intuitive patient portal called OnPatient Portal. The portal is optimized for patient convenience and offers multi-lingual support. It also offers customizable forms and smart shortcuts. It is also HIPAA-compliant and offers educational material.
DrChrono EHR is designed for healthcare providers in a variety of fields, including dermatology and behavioral health. It also includes billing and customer engagement tools. It also supports e-prescribing and e-remittance advice. Its RCM Pro platform helps medical billing companies streamline their business processes and cut down on human labor.
E-prescribing tools allow physicians to have full access to their patient's medical records and will alert them to unfavorable drug reactions. These tools can prevent duplicate treatment, reduce adverse drug reactions, and provide physicians with an easier method for prescription refills.
drchrono EHR Software is designed to run on mobile devices, such as iPhones and iPads. Users can log into the system using multiple user types with different access levels. Its mobile app is intuitive and easy to use. Users can view a patient's patient card, including their medical history, medications, and past lab results.
Customizable Charts And Templates
DrChrono's All-in-One integrated electronic health record software is a modern way to maximize practice efficiency and improve patient care. The software supports up to 16 specialties, is HIPAA compliant and EPCS compliant, and features customizable charts and templates. It also offers integrated billing and lab order submission to over 40k labs, as well as reporting, analytics, and smart shortcuts.
DrChrono's customizable charts and templates allow physicians to add custom fields to patient records. This allows doctors to easily record important information about a patient, such as their health insurance provider, statement balance, preferred lab provider, and VIP status. In addition, the software's scheduling tool lets physicians set realistic time blocks for appointments.
DrChrono offers a free 30-day trial and a free demo. This trial provides access to customizable charts and templates, a patient check-in tool, and clinical charts. It also features advanced task management and a secure messaging inbox like AdvancedMD EHR. Moreover, it has a dedicated accounts manager to help you set up and maintain your practice's workflow.
Charts and templates are important parts of an EHR. Manually writing data in a chart is a time-consuming process. You may make mistakes, and this may result in wrong diagnoses and prescriptions. Templates, on the other hand, can help you automate this process and free up your time.
DrChrono's Apollo Plus plan also offers an RCM suite. With Apollo Plus, you can also view claims reports. This lets you know where each claim is in the billing process. Additionally, the program allows you to list your own billers in the same places as your staff billers. This gives you a clear view of DrChrono's approach to billing and practice management.
HIPAA Compliance
DrChrono's All-in-One integrated EHR software streamlines patient care while maximizing practice efficiency. It's HIPAA compliant and EPCS-compliant and features customizable specialty-based templates. The platform also has advanced features like lab order submission to over 40k labs and reporting, making it a one-stop solution for medical practices.
DrChrono offers all-in-one EHR solutions, practice management tools, billing software, and mobile applications. The software includes HIPAA compliance and features such as a secure patient chat room. It's also easy to use and has an API that makes it easy to integrate with other applications. For example, it allows physicians to schedule virtual visits and send automated emails to patients. Furthermore, the software can integrate with Stitch, which allows physicians to post real-time notifications in practice chat rooms.
The software also comes with an onboarding process. After you sign up with DrChrono, they will set up a custom template for you, enroll your providers, and complete the credentialing process with payers. You can even use DrChrono on iOS devices and Apple Watch.
HIPAA compliance is an important feature for all healthcare organizations. HIPAA compliance means that the software maintains strict privacy standards and ensures that no one else can access patient information. The system also has HIPAA compliance tools that enable doctors to prove access to and update patient information. Healthcare institutions face privacy issues every day, and patients need to know that their private medical information is secure. They must also ensure that emergency information is available for patients.
EHR software should meet the requirements of HIPAA. DrChrono is HIPAA compliant, and the features and functionality will suit different types of medical practices. For instance, it supports multiple languages, and you can integrate it with existing software. Its billing and scheduling tools will help you keep track of patient's health records.
Patient Reminder Technology
DrChrono is a highly effective medical software solution, particularly for new practices and small healthcare organizations. The software is intuitive and easy to use on both desktops and mobile devices. It also offers extensive customer support and free setup assistance. However, there are limits to how many patient reminders you can send out for free, so be sure to choose a plan that fits your practice's needs and budget.
For example, DrChrono's OnPatient personal health record feature lets you create and launch video visits with your patients. This feature is especially useful for walk-in patients, as it allows you to easily access important information about your patient. The software also offers an intuitive mobile app, which can store a patient's medical history, medications, and previous lab results.
DrChrono's patient reminder technology is included with every plan tier, but there is a limit on the number of reminders you can send to patients each month. If you need to send more than that, you'll have to pay extra for the feature. Additionally, the software has an extensive reporting suite. You can customize your reports with different filters and compare results from different companies.
drChrono's EHR software allows doctors to manage patient intake, care, and billing. It features customizable medical forms, e-prescribing, scheduling tools, and real-time eligibility checks. It also features an award-winning medical FHIR API.
DrChrono is an all-in-one EHR solution, practice management, and billing solution for small and medium-sized practices. It features an easy-to-use API and focuses on ease of communication between patients and providers. Additional features include patient reminders, a mobile app, and secure communication.