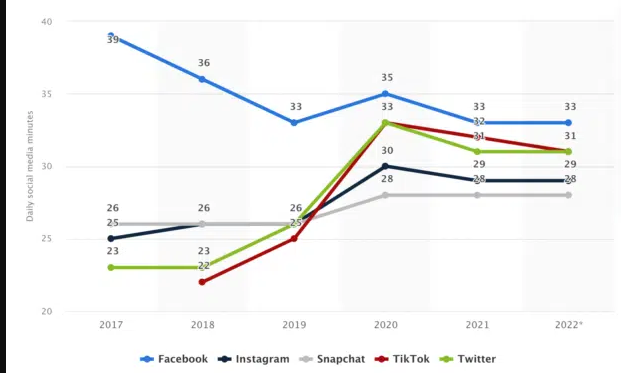 Facebook marketing is a catch-all term for the various methods of marketing your business on Facebook. It includes the following:
Facebook Ads
Business Pages
Facebook Marketplace
Facebook Groups
It is a platform that provides a range of highly targeted sponsored ads and organic posts. They allow marketers to expose their products and services to a large audience. Over the previous decade, Facebook has evolved from the most significant social medium on the internet to one of the largest markets. For the following reasons, Facebook is effective for marketing:
Global Coverage
Every day, about 1.5 billion people access Facebook. Every month, around 2,3 billion visits are made. Over 7 million active businesses create ads for this large audience.
Paid Ads
You can target your advertisements to a specific audience with Facebook Ads based on gender, age, geography, employment, interests, or other demographic or behavioral data that people willingly disclose to Facebook.
Organic Reach
If you don't have the resources to use Facebook Ads, you can create relationships organically by sharing information that others will find useful on your Facebook page. Your postings will appear in the newsfeed, but the high level of competition will make it more difficult to establish a following organically.
Unify With Other Marketing Channels
Facebook marketing is not a solitary method. You may combine it with other marketing channels such as email marketing, mobile marketing, search engine marketing, and Facebook Messenger ads to create a promotion mix that will expand the reach of your company.
Benefits of Facebook Marketing
The benefits of using Facebook in your marketing approach are:
Targeting With Precision
You're probably aware that Facebook allows users to deeply segment their audiences, but let's take a closer look at the alternatives. You can choose an audience based on their income,
Furthermore, because they already know your organization, these folks will be higher quality leads than users that land on your site organically. As a result, you have more credibility in their eyes. Encourage your fans to visit your website to learn more about your items. Furthermore, when you connect to a website, Facebook generates a full-size image if your website's page has one. As a result, it will capture the attention of many users and assist you in increasing website traffic.
Facebook offers an amazing opportunity for businesses to present their items from the best viewpoint. This platform's advertisements c
Many individuals prefer to interact with brands through social media. Phone calls are a thing of the past. Create a Facebook Messenger chatbot to connect with users based on their most frequently asked questions.
They can include terms like "pricing," "delivery," "payment options," "buy," "book," and so on. You merely need to create a scenario based on FAQs from users and write the replies. Your chatbot will mimic real-world dialogue. As a result, your support crew will have more time to handle more complex issues, and you will be able to automate common operations.
Marketing Formats
Facebook marketing is accessible in six formats.
Video Ads
It's a great way to show off your product's features in action. Facebook marketing permits the use of several types of video to achieve specific purposes, including short videos and GIFs to rapidly capture attention and In-Stream videos.
Image Ads
If your budget does not allow you to create a video, an image ad is a wonderful option for quickly and easily making a high-quality commercial. This approach will assist you in increasing brand awareness and driving traffic to your website.
Carousel Advertisement
This format enables the display of up to ten images or videos within a single advertisement, each with a link to a distinct product page. Because you can display one product in detail, or build a tale split by those carousel cards. It opens up a broad area for creativity and interactivity.
Collection Ads
It's like a mini catalogue of your products right in a Facebook feed post. A collection ad is made up of one original video or image and four smaller photos arranged in a grid below.
It is a video-like format that displays well even when the internet connection speed is slow. You may make such an advertisement by utilizing a range of stock photos, video editing software, and even music.
This style was created to help generate leads, particularly from mobile users. When a user taps on the image in such an advertisement, a subscription form appears right in the ad. This allows them to opt-in to your newsletters with just a few taps.
Wrapping Up:
Facebook is the only platform that allows for audience targeting at every stage of the consumer experience. Contact Virtual Ad Agency if you want to undertak for your business.