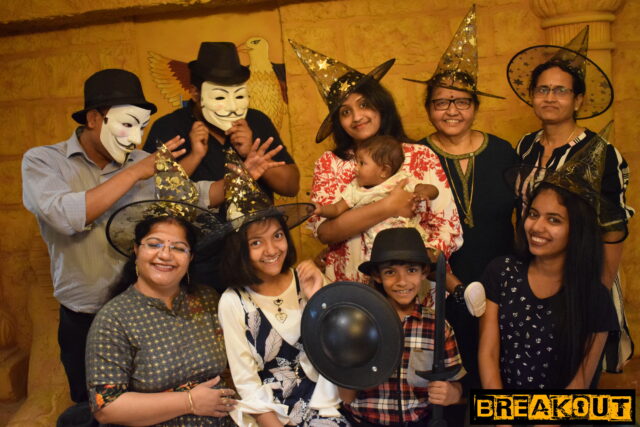 Who doesn't love a perfect family outing? I think we all do! From eating excellent food to enjoying fun activities along with your family, it's always fun to enjoy quality time with your family as it relaxes and gives us even more happiness! And we all just only live for love & joy, right?  
We should go out more and have fun with our family regularly and more often too! Doing this can significantly help us better our mental health and reduces stress. Like, we are going to "breakout escape rooms" with your friends and family to have fun stuck in a scary room and solve puzzles! But finding a place to hang out or travel to can be challenging—especially the ones that suit your family's needs regularly. So, to help make it much easier for you guys to have fun with your family, we've found four places in Bangalore for a perfect family outing! 
Here are the four places we love, and we're sure you will also love them! 
An escape room is an exciting and unique way of spending quality time with your loved ones on any occasion. Breakout is among the top Mystery rooms in Bangalore that provides customers with interesting themes based on popular media, as well as some original storylines. These games are suitable for all ages and perfect as a team activity. Challenge yourself to solve the riddles and complete the given tasks while the clock is ticking away. Give the Breakout room Bangalore a try for a unique experience.
2. WONDERELA Water Park
This is known as the best Water Park in the whole of Bangalore because it is cost-effective and famous for families with children. It is exceptionally prominent in the area, with its branches scattered throughout. It's located at 28th Km, Mysore Road, Bengaluru. It is excellent for all age groups that consist of a typical family. That means even senior citizens can enjoy this place. It has various water slides and games in the park, making it extremely exciting for kids as well! So do check it out for sure! 
3. Fun World Amusement Park
This park is fantastic because it combines Water Park with an amusement park all at once! It is like a double dhamaka deal right here! With excellent and refreshing water rides, you can also take the fun of an amusement park like the Ferris wheel, roller coaster, and bumper cars! It is highly cost-effective too, and quite fun to visit! It is located in Palace Grounds, Jayamahal Main Rd, Opposite TV Tower, J.C.Nagar, Bengaluru. It charges 800 rupees on average for entrance fees. So do check it out by giving it a go! 
4. Time Traveller Restaurant
This is a perfect, cozy, comfy, and lovely family restaurant that you visit with your family every once in a while to have a fantastic dinner outing. As everyone should have food from outside once in a while, it has a very cozy yet very modern décor, which is very kid and family-friendly too! So, if you have senior citizens' parents, they will also love it. They serve Indian, Asian and International cuisines at best. Their service is also immaculate, and so are their ratings in the past years! Everything is unique there!
They are primarily a Vegetarian-Friendly restaurant, so you don't have to worry about that. Plus, they also serve vegan & gluten-free options to make it much more inclusive to its customers. It is located at 144 – C/1 Kirloskar Rd Sai Vishram Business Hotel, Ground Floor, Bengaluru. With its cost-effective nature, too, you should indeed check it out! 
 
5. Bannerghatta Biological Park
This is a famous biological park, or you can also call it a zoo (sort of), where you can find a lot of flora and fauna that are being preserved nowadays. They provide Butterfly Park and boating from 9:30 AM – 5:00 PM and a Grand Safari for everyone from 10:00 AM – 4:30 PM. It is a very cost-effective place to visit as the fee for entry is just around 80 to 200 rupees per person. It is closed on Tuesdays. But it's a great place to go out with your family and explore the wildlife of this world on a much deeper level. Nature and the animals here are so fascinating that they seem out of this world! Do check it out once in your life with your friends and family! 
I hope you like the following place we recommend. Lastly, do let us know your thoughts in the comments below!