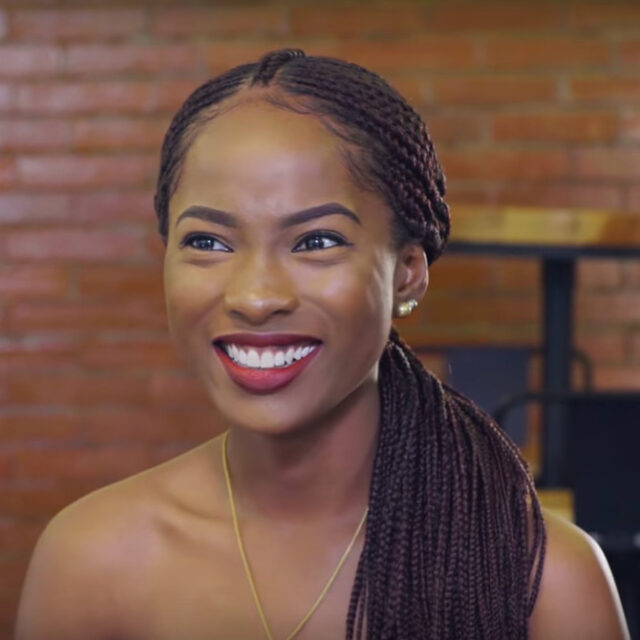 You want to give your short hair some style. Try one of these trendy, edgy women's fade haircuts for a stylish appearance! Short hair was not initially popular among women because long hair views as more traditionally feminine and attractive. However, as pop culture has grown, more and more ladies are sporting these super fashionable looks.
With a faded haircut for ladies, your hair gradually gets shorter from top to bottom. Low, medium, and high fades are the main categories of fade cuts. When obtaining a female fade haircut, these are distinguished based on the haircut.
Top fades for women
1. Women's naturally curly fade haircuts
Short natural hair is appealing and requires little upkeep. But occasionally, the style might become excessively plain and monotonous. Try unique colors and a sharp fade for a terrific method to boost your natural hair. The class is ideal for ladies with type 4c hair who lack time to manage long hair. When it's summer, and you want to avoid anything that can make you feel hot and unpleasant, this haircut is perfect. If you want to style it so that your curls are clearly defined, use a styling gel or hair wax.
2. For a short pixie cut, use a low fade
Short hair on the back and sides and somewhat longer hair on top characterize pixie cuts. They are accompanied by brief frontal bangs as well. The ideal pairings are fades and pixie cuts. For this haircut, I'd want to play around with pastel colors. For persons with round or oval faces, a pixie cut looks ideal. However, you can balance your hair length to suit the form of your face.
3. Faded buzz haircut
Due to the radical transformation, it causes in your appearance, some of you might find the buzz cut too striking. However, I adore the hairstyle because of its usefulness and stylish appearance. Your facial characteristics stand out when you have a buzz cut. Since it helps define soft features, this cut suits those with them best. You will see a smooth hair transition from the top of your head to your neck if you receive a buzz cut with a fade.
4. Mid-fade taper haircut
Typically, a taper haircut has longer hair on top that progressively gets shorter as it moves down the sides and back. However, there is little hair on the sides and back of a mid-fade taper haircut. When it comes to a fade, the hair length in both places changes gradually rather than abruptly, as is the norm. You will have a clean, modern look after getting this haircut. To experiment with various looks, you can change the length of your top-layer hair. Side-swept hair is the ideal hairstyle for this appearance.
Read More: Add Fashionable and Comfortable Floor Cushions to Bring Attractive Vision at Home
5. High fade mohawk haircut
A mohawk is a striking style with a rebellious and bold appearance. While conventional mohawk styles aren't worn anymore, several modifications, such as the fauxhawk and undercut mohawk, are frequently seen in women. However, a mohawk is not a simple hairstyle and will undoubtedly need some maintenance from your end. The most crucial step in maintaining the mohawk's shape is to clip your hair regularly. All hair types, including natural and curly, can pull off this look. To keep the style, you can use various styling products, including holding spray, hair mousse, gel, etc.
Discovering different fades
Understand the variations between a regular, high, and low fade is one in which the fade line starts approximately an inch (2.5 cm) above the hairline and is lower than a regular fade. Choose the one you like most by deciding how short you want the sides and back to be and where you want the fade line to start.
Take a look at the specialty fades available. Other specialist fades exist in addition to the basic fades. A high-top fade features sharp corners, a solid geometric shape, and a straight, blunt edge over the top. Similar to a low fade, a temple fade has a considerably more rapid hair disappearance. Lastly, a scissor fade produces solely using a scissor, resulting in longer hair than the conventional fade.
If it's your first time, stick with the conventional fade. Start with a regular fade if you're unsure of how the fade will appear on you. This haircut will leave you with enough hair to change your style if you choose to in the future. If you don't like how the typical fade looks, experiment with lower and higher fades until you find the one you want the most.
Top Fade haircuts for men
The fade is a prevalent haircut for males of various ethnicities, but it is most frequently associated with African Americans. It is one of the most basic cuts offered in most barbershops, worn by men of all ages, and increasingly popular among teenagers.
The fade haircut gained popularity primarily in the 1990s, but it was also becoming more popular in the 1980s. Wes Riley, a barber in South Philadelphia, claimed that many African Americans were eschewing the Jheri curl and Afro era in favor of a more clean-cut appearance. Riley, a manager at Faheem's Hands of Precision, stated that the fade is renowned for its straightforward aesthetic and versatility. "It is simple to adapt to a person's head size and shape."
What fade is now the most frequently requested?
"You know that hipster-like 1940s style when the sides are pretty tight on top? That's a little out of date, in my opinion. People enjoy Zayn Malik's fade a lot. He texturizes his hair, giving it a sort of London boy high fade with shorter hair. Therefore, when something significant like that occurs, people beg for it. There are many references to soccer players. In addition, if they're feeling very daring, people add a notch or another creative addition to going with the fade."
FAQs