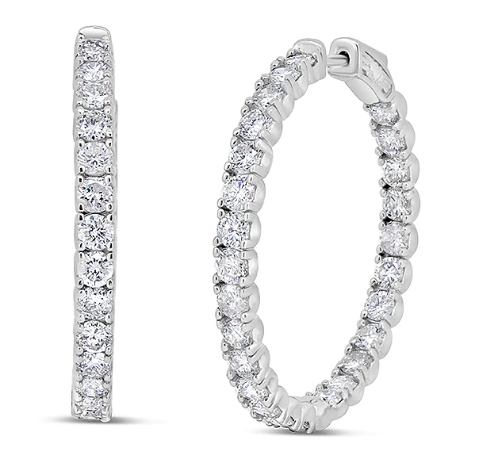 Jewelry is an important accessory to complete the look. Jewelry has been worn to pull together a look and an outfit and finish a look. Stylish women everywhere feel naked when without jewelry. We always mix and match different kinds of jewelry without outfits. Your jewelry should reflect your style.
Wearing earrings is mandatory for any woman; without earrings, a woman looks incomplete. An earring is a piece of jewelry attached to the ear via a piercing in the earlobe or another external part of the ear.
Different kinds of earrings
There are different kinds of earrings available. Some of the more popular styles which you will find in our extensive
Stud earrings
Studs can be diamonds, gemstones, pearls, gold, or silver balls on a metal rod that sticks through the ear lobe, with a small backing to secure them. Everyone usually gets these starter earrings when they first get their ears pierced. Simple and classic. They never go out of style!
Hoop earrings
Hoops are classic styles that never seem to go out of fashion. They are a loop shape that goes through the ear lobe and hooks in the back. There are different hoop earrings, from diamond cut, metal hoops, shaped hoops (hearts, stars, etc.), hoops with embedded diamonds, hoops with dangling charms, simple gold hoops, etc.
Thus, 18karat gold is best suited to make diamond-studded jewelry. Diamonds are expensive, and thus it is necessary to mount them in a metal that can hold them securely.18k diamond hoop earrings are strong, malleable, ductile, and don't scratch or bend easily.
Drop Earrings
Lovely earrings dangle off the ear and usually hang off a fish hook or down from a lever back. They can include metal, silver, and gold and have gemstones dropping down.
Choose any earring which suits your need, occasion, and more than all your facial structure. Then, match the right earring with your perfect attire and look stunning on your special day!
Different types of eternity bands:
Whether searching for the perfect wedding band to complement your engagement ring or building a statement stack, here's your guide to eternity bands. Loaded with diamonds and boasting plenty of sparkles, eternity bands are prized pieces in any jewelry collection.
Round Brilliant Eternity Bands
For a classic statement, round brilliant diamond eternity bands offer unmatched brilliance and are beautifully worn solo or stacked with your engagement ring or other sparkling bands.
Emerald Eternity Bands
Sleek and geometric, emerald eternity bands perfectly pair with emerald engagement rings or in a stack with another emerald.
Emerald-cut eternity bands bring an elegant appeal with their clean design. The unique look of the emerald-cut diamond is created by the step cuts of its pavilion and its large, open table. Instead of the sparkle of a brilliant round, emerald cut diamonds produce a hall-of-mirrors effect.
Oval Eternity Bands
Oval eternity bands offer a wider visual spread of each stone for a statement look and maximal sparkle. Oval Diamond Eternity Band showcases the brilliance of each stone. The Rose gold oval eternity band is trending as Rose gold is a beautiful and unique choice for an engagement ring setting. It has a warm and romantic look that many people love.
Radiant Cut Eternity Bands
For something more unique, Radiant Cut Eternity Bands are a striking option serving a major sparkle. Like the Emerald Cut, Radiant Cut diamonds have straight edges and cut corners but feature brilliant faceting. Elongated Radiant appear larger than square Radiant and are eye-catching in a uniform eternity band.
Eternity bands (also known as eternity rings) make meaningful gifts for anniversaries, birthdays, and other special celebrations. The style and setting you choose are mostly based on personal preferences.