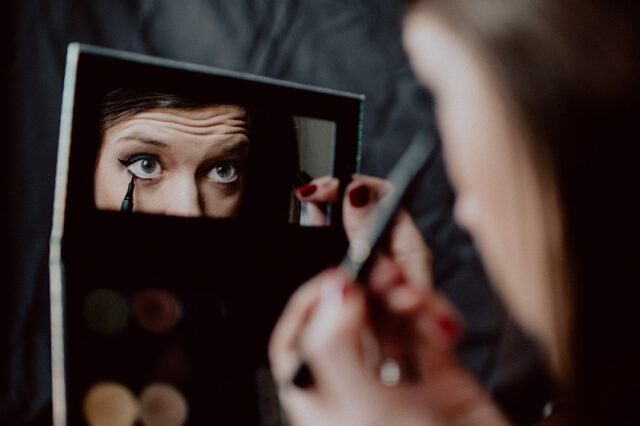 Whether you are a regular beauty fanatic or a beginner, you always look for the best solution at affordable prices. There is no harm in achieving an expensive look without splurging too much on makeup products. A flawless look requires precision and technique, not costly products. Though luxury products have unbeatable quality, great pigmentation and amazing coverage, one should also witness the power of budget-friendly products.
Before moving further to budget-friendly products, let us see how one can use a single product in multiple ways to avoid unnecessary wastage of money and leftover products.
Here are some Tips and Tricks that can help utilise all your products to the fullest.
Those who love to do makeup would have countless lipstick shades, and we do not use most of them. Those unused lipsticks can be used in many ways other than your lovely pout.
a. Use it as Blush:
It is one of the oldest tricks in the best makeup budget book to apply your lipstick on the apple of your cheeks. The creamy formula of the lipstick adds a natural pigment to your cheeks, giving them a pop of colour. Simply swipe a layer of lipstick from the tip of your finger and blend it properly on the cheekbones to get the look.
b. Use it as eyeshadow:
Just like blush, use coral lipsticks to create a summery eye look. Liquid gloss can be used to create the effect of glitter. Take the liquid gloss, tap it on your eyes, and blend it with your ring finger. Pair it with black eyeliner to accentuate your look.
c. Use it as a lip tint:
If your favourite lipstick is about to finish or is hitting the pan, take out the leftover lipstick and mix it with clear lip balm or petroleum jelly. Melt your lipstick, pour it into your balm and freeze it to get tinted lip balm.
2.Opt for Multi-Purpose Products:
Whether you are looking for makeup products on a budget or experimenting with different looks with fewer products, all you need is to look for versatile products that can do multiple jobs while maintaining your glam quotient.
Price cannot define the quality of beauty products. Some of the brands have great quality products and are affordable as well. Let us discuss some of my favourite and budget-friendly branded makeup products that give a premium quality finish.
Maybelline Sky High Mascara:
Sky-high Volumising mascara for sky-high lashes. The mascara from Maybelline delivers full volume. The mascara has a brush that bends to cover every single lash from every angle. Infused with bamboo extract and fibres the waterproof mascara is lightweight and long-lasting. Sky high mascara is also suitable for sensitive eyes or for those who wear contact lenses.
Barry M Makeup Nail Paint:
Cheap Barry M makeup cosmetics is known for its bold, stylish, and gothic touch colours. All their nail paints are high shine, glossy and long-lasting. They have a gel-like finish and are available in hundred-plus shades.
Nyx Cosmetics Total Control Foundation:
Nyx total control foundation has a fine velvety texture and gives full coverage with just a few drops. These are available in many shades. Choose one shade darker than your shade, and you are good to go.
Fragrances Cosmetics Perfumes is a well-known retailer shop for makeup and fragrances in the UK. They have products for both men and women at affordable prices. Their range of fragrance for less affordable cosmetics is the USP of their retail shop. Visit their website and explore all the amazing options of fragrances and cosmetics online.
Thank you so much for taking the time to read our blog.