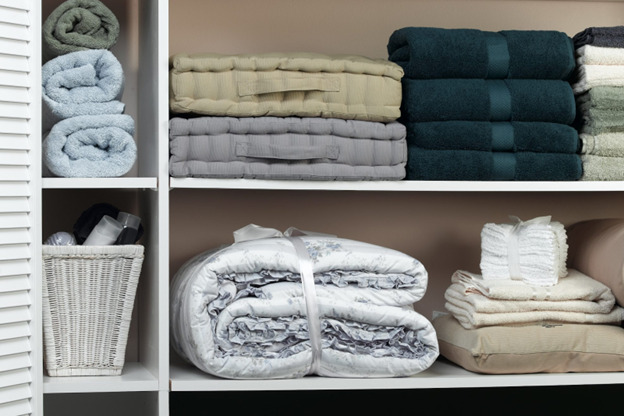 Last Updated on March 25, 2023 by hassan abbas
Despite how rarely we observe towels in our day-to-day lives, they are often the first place to look when making space work for you. Bathroom towels can be bulky obstacles to the flow of a room's interior design, and many people have no idea how to incorporate them into the overall scheme of a room. If you are worried about how to store your towels in style, then don't worry, as there are some easy and unbelievably cool ways you can do just that!
With 15 different towel storage ideas, you can find the perfect solution for your home. Many trendy towel bars and hanging displays will appeal to those living in apartments or smaller homes. Hence, nothing is more charming than a repurposed vintage piece put to a new use or a simple shelving system.
Individual units, tiered baskets, and clever stands are just some of the ways you can free up space without sacrificing your taste.
15 Best Trending Ideas to Keep Your Towel Smartly
Wall-Mounted Metal Towel Bars
Towel holders are mounted to bars and can be used to bring a sense of elegance and aesthetic appeal to your home. The bars are black and folded into an 'L' shape at the top. If you wish, you could also color coordinate the bars with the color of the wall on which they will be placed. This will add just a little extra dimension to the overall setup. The towels can be stacked neatly on each other, as they are wall-mounted and can be stacked neatly on top of one another.
Side Basket for Bathroom Towel Rolls
The bathtub should be a relaxing place where you do not have to worry about stepping out to grab your towel, even after you have enjoyed your time in it. Adding a towel roll basket can make the bathtub one of your favorite places to relax. Stacking your rolled towels inside this basket is easy since it enables you to stack them neatly. To simplify the process, you can place the basket next to your bathtub on a swivel stool, a table, or even directly beside it.
Parallel Bar Designed in a Minimalistic Style
Nothing is better than something simple yet elegant, and this design may be perfect for you. The best thing about this one is that it won't require an elaborate arrangement to pull it off. It only requires two horizontal bars placed parallel to each other. The bars are affixed to the wall with tape loops; the Velcro loops are attached to the wall. It's that easy! Now that your setup is complete, you have a minimalistic towels bar!
Mesh Towel Roll Basket Stand
A towel storage stand is a versatile setup that can be used in several ways. On the top, you'll be able to set your essentials or some plants so you can use the table as well. The next section of the shelves under that also has two basket-like structures where you can place rolled towels for stacking, and the other baskets can be used to stack other essential items such as toilet paper rolls.
Stylish Beaded Towel Ring
There's no denying that wood beads are taking over the design world and appearing everywhere, from chandeliers to holiday garlands. This trend can be easily mastered by incorporating small accent pieces, like a beaded towels ring. With her DIY, Spoon, Fork, Bacon used Rit dye to color plain wooden beads. You can match the color to your decor. The only three key components of this project (beads, leather, and a metal ring) make it easy for even beginners to complete!
Useful Wire Racks for Bulk Storage
Most people never put all their towels on display at the same time, of course. Wire racks can be used to create custom shelving in any closet, no matter what the size is. They can help you organize your inventory. You can easily create a system to manage your extra towels and bathroom supplies by combining decorative baskets with these storage systems. The shelf height can be easily adjusted to fit whatever storage containers you choose by using only a few screws for installation.
Vertically Parallel Hanger For Towels
The towel holder set has a shelf on top that you can use to place your plants or other essentials. It is designed with two hoops hanging vertically parallel to one another from both sides of the shelf. You can stack your rolled towels on top of one another to be within easy reach.
Wall-Mounted Wooden Towel Rack
It is an excellent option for those who like their towels hung on hooks but no longer want them dangling off and wish they could be neatly rolled away. It is fitted into the wall using fine quality wood and is available in various colors. This storage tray makes it easier for you to do something else besides stowing your towels. It is a type that comes with three different shelves – one on top of the other – to allow you to store other items for yourself besides your towels.
Essential Towel Storage Side cupboard for Bathrooms
This rectangle container is perfect if you are looking for a stylish and minimalistic way to store your rolled towels vertically. This device has a label on the back that says 'bathroom essentials,' describing what it is used for. A container such as this can be easily kept on a sturdy surface so that the user can easily access clean towels while they are at it.
Repurposing your household items is something you enjoy doing a lot, don't you? Well, this idea is precisely what you were looking for! As you can see, these hooks are usually used to hang towels, except that they are food knobs and key cases that are no longer being used. Then you can hang your towels on them after screwing them to the wall.
Curved Towel Holder with Metallic Finish
You do not have to worry about this towel holder taking up much space in your bathroom. Made from metal and sleek, it will not take up much space in your bathroom. You can easily stack rolled towels on it as it has two or three curved designs on top of which you can easily stack. You can also find a basket at the bottom if you want to keep items.
Ladder Drying Rack Made of Wood
A wooden ladder is an excellent choice if you want to accentuate the rustic elegance of your bathroom. If you're going to blend seamlessly into your home decor, by painting this ladder or staining it, you can achieve that effortlessly. Furthermore, leaning towel holders serve as both a decorative piece and a practical solution when drying multiple towels at once, which is vital when several people share the same shower. Aside from the fact that it is a relatively easy DIY, the whole project only requires about $20 worth of materials.
Wooden Bar Towel Stacking Unit
The structure is exquisite and neatly designed for storing towels. This wooden board consists of a hollow vertical bar with ample space to stack rolled ropes horizontally – on top of each other – with much space between each one to prevent tangling. When stacking your towels, you can color coordinate and arrange them in different sequences or put them in a color-coordinated order. You do not need much space to create this kind of configuration.
Wall-Mounted Cabinet Space
Generally, this type of cabinet is similar to those that can often be found in bathrooms. Typically, the cabinet consists of two rectangular halves that are a dark brown color. The cabinet's top shelf should be reserved for your clean, rolled towels. The other shelf should be reserved for all the bathroom necessities. The vacant space can also be used for plants.
I have designed this shelf for you; it is a simple but elegant one that can be placed on the ground next to your bathroom's basin. In addition to ample storage space, it also provides you with plenty of extra worktop space. Customers routinely choose this product because of its wood look.
Beyond Bridges USA Quality Towels are Ideal for Storage
If you're looking for both best-quality towels, you may want to consider two-handle towels made with pure cotton or towels made with cotton and rayon; however, they may not last as long. A high-quality cotton towel will usually cost a little bit more than another one, so search for coupons to save on them.
Beyond Bridges USA is undoubtedly one of the top companies in the towel business in the United States. All products are manufactured from pure cotton to ensure they are the best standardized long-lasting products at competitive prices. For every occasion, you can choose from a broad range of economic and premium towels in various trendy colors and styles. Many colors and sizes are available at affordable prices and 100% quality. The towels that Beyond Bridges offers in bulk are the best option for everyone as they are an essential thing every person needs in their lives.
Concluding Remarks
This post can help you transform your bathroom from a small space into a small oasis, whether it is a large area or you are dealing with a small space. Please let us know which ideas will help you completely revamp your bathroom in the future in the comments section below.
You May Also Like: How To Get In Touch With Supplier For Rental Car In Dubai