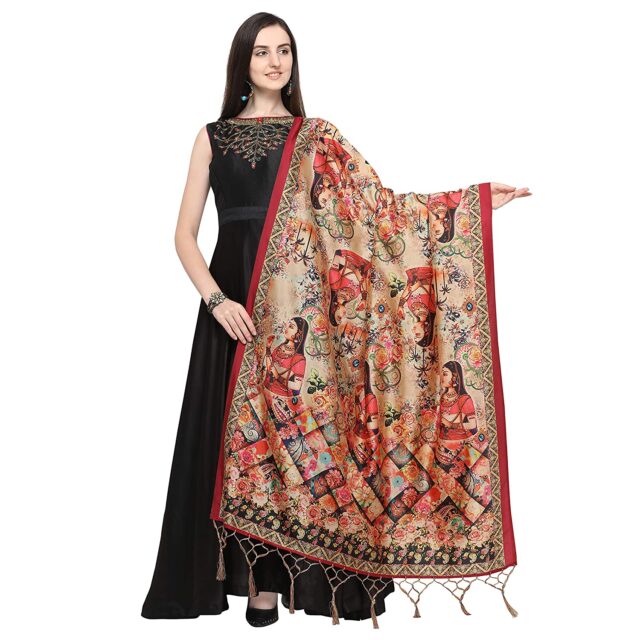 Have you ever imagined that your ethnic dupatta can be your best ethnic collection because it is the piece of attraction on your ethnic suits, saree, or salwar suits? You might be searching for something exciting for your upcoming event dress. Dupatta is an elegant way to beautify your salwar suits and detailed lehenga to be exciting. There are lots of dupattas available at online stores for your everyday dressing. Not everyone can afford luxurious lehengas and sarees but you have to team up these dupattas with the best matching to make your look outstanding in the event.
Net dupattas
Net dupatta looks ethereal when worn as a perfect staple with a salwar suit or with a heavy work lehenga and just as it does in sarees. It gives you a more radiant appearance. These are lightweight and look beautiful being fluffy. These look vibrant in light colors and enhance the beauty of your outfit. Incredibly graceful, elegant, subdued, and versatile are some features of Net dupattas. It looks great with party outfits, chiffon suits, wedding attire, and party outfits. You can also enhance their look with traditional attire such as salwar suits, lehenga, and kurta.
Banarsi dupattas
Banarasi silk is originated from Varanasi, Utterpradhesh, and one of the finest Indian fabrics and loved by world fashion stylists. Silver threads and real gold is used to create the Banarasi dupatta and clothing that were earlier made for royal families. They are world-renowned for their gold and zari work. You can also find intricate and challenging floral motifs for designing these dupattas. This fabric was first introduced during the Mughals and explains why most of the designs are influenced by this fabric.
Bandhani Dupattas
Bandhani Dupatta comes in a variety of bright and attractive colors to up their fashion quotient even further. It is a regal representation of quality and status. They are perfect for any wedding or special occasion. Those are made from pure georgette fabric and look awesome on your attire if dressed and matched well. The stunning colors and patterns inspire you to make an impression that everybody will remember your style of the event. Bandhani dupattas are manufactured with a tie and dye process. There are two different essential phases of its experience and demand talent.
Embroidered dupatta
Every woman wants to dress well during wedding occasions and she understands the need for an embroidered dupatta for the event. Although, you might have many dupattas in your wardrobe embroidered dupatta is the one that you need most during a wedding. You will feel that you are a glam queen with this dupatta and the embroidery enhance the look and make it more appealing for you. You can design it with a suit or even with a lehenga choli. The attractive designs can give a completely new look to your boring suits. Your plain boring suits have to sit ideally in your wardrobe anymore.
Red Dupatta
When you are particularly looking for a red dupatta with your salwar suit or lehenga, remember that you can choose from multiple designs from chiffon to maxi to gossamer. Due to the interesting color and shades, you can design it for any formal or casual event. Scarves, a pop of shawls, tops, cardigans, and blouses add to its versatility which makes it a perfect choice for your elegant kurta or salwar suit.
Bridal dupatta
A bridal dupatta is mostly paired with an elegant lehenga for a complete ethnic outfit style and to stand apart from the crowd. Whether it is an Indo western lehenga with a skirt, crop top, and proper ethnic blouse and lehenga set, a bridal dupatta is a welcome style that ensembles the bridal look properly. You can choose from a wide variety of bridal dupattas with a classic embroidery look.
Decision time
Dupatta is a perfect attire for an ethnic outfit and there are hundreds of varieties, designs, colors, and patterns for it. You can use it for your outing, college wears, and for some special occasions such as birthday party, family functions, or a wedding day. Dupattas are available in all kinds of fabrics such as net, chiffon, silk, banarasi, embroidery, and lots more. Make your purpose or event special with a dupatta and have some precious moments with your family and friends.