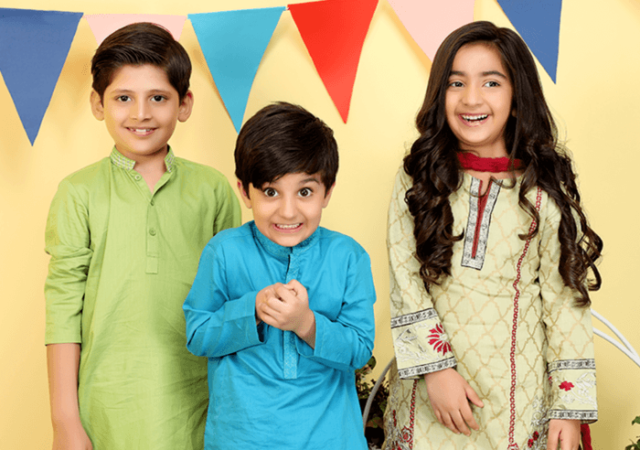 When we talk about shopping, bachaa party outfits are essential. You cannot restrict yourself from buying anything for the little one you have at your home. But what to do if you want a proper place to buy things for your kids? You have to find out the best brands near you, and this article will present a list of famous kids' brands that work in Pakistan.
Kidswear brands in Pakistan's list will remain incomplete if we skip the Breakout Kids brand. The brand lovers cannot forget to visit this brand while shopping for their kids. Breakout Kids sell western clothes, including tights, T-shirts, jeans, and other western outfits. They majorly present clothes for children between 5-12 and sell products of acceptable quality.
Minnie Minors is one of Pakistan's top brands that have different branches all over Pakistan. They have been working brilliantly since 1998. This brand offers outfits for kids between 0-12 years. You can purchase good quality products starting from Rs 1000 only from Minnie Minors. Pakistani parents love this brand because of western style clothing. You can visit its website for online shopping.
How can I skip another leading brand that is Cocobee Kids? It is a famous brand that never compromises on the quality of outfits. They make dresses for youngsters aged between 5 months to 5 years. Cocobee Kids is working with many unique features, such as customized dresses. Most kidswear brands in Pakistan focus on western outfits, but Cocobee Kids is a brand that also works with eastern dressings. You can visit this store even with a low budget and can buy a product for Rs 400.
Junaid Jamsahiad stands first in the list of kidswear brands in Pakistan. Their initial prices are high, but they sell premium quality products. Their fabric's quality is of the highest level in the market. J.kids come with unique prints and styles and wins awards for perfect servicing every year. Pakistani parents love to buy J. products both for their kids and themselves.
If you are searching for a brand to buy clothes for your baby girl and baby boy, you must try Leisure Club Kids. They came with limited stock, but today they are working with varieties for kids of different ages. They also deal in shoes for children, which is the main feature behind their popularity in the market. The leading brand has been working since 1997 and providing high-quality outfits.
Bachaa Party is one of the famous kidswear brands in Pakistan. They deal in all children's accessories, including stationery, clothes, toys, bags, and shoes. As a careful parent, you should shop from Bachaa Party. If you do not have time to visit their shop in Lahore, Karachi, Multan, and Gujranwala, order the required products via their online website.
Summing Up
We have come to know about the well-known brands that work in Pakistan. Next time, shine brighter with shining brands.