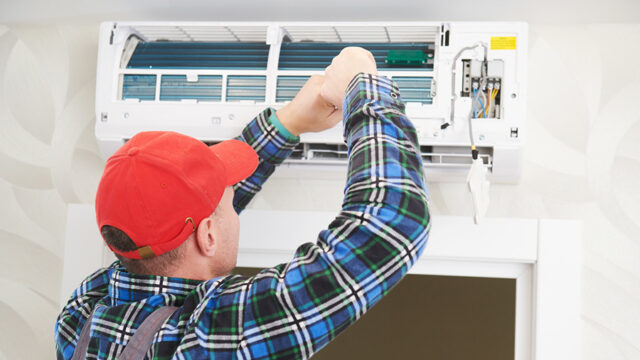 Last Updated on March 6, 2023 by admin
AC Repair Dubai: Air Conditioning Breakdowns can be frustrating and we understand your needs are urgent and important. Our technicians will act professionally and with courtesy to you and/or your staff & customers at all times. Subject to your approval, minor repairs are carried out immediately and the air conditioner is back up and running, reducing the frustration of waiting for the ac repairs to be completed.
In many circumstances most air conditioners cannot be repaired on the same day, we can arrange a report for you and a quote. If necessary a written letter and quote can be arranged for your insurance company if you are claiming this under house insurance. We are able to order new ac spare parts (if available, for most leading brands under 7 years) give you a quote for ac repair and parts, and arrange for a second appointment to have these parts installed so your air conditioner is up and running again as soon as possible.
Whilst our maintenance plans are designed to reduce breakdown events when your air conditioner doesn't seem to be working as well, as usual, there are a few things you can check before deciding to call a technician. Listed below are a few of the most common issues we come across, some are easily fixed, but some will need a professional technician to repair:
The unit doesn't turn on:
Has the circuit breaker been tripped?
Is the 'power' switch on?
Is the unit on 'heating' operation? If so, it may need a few minutes to warm up.
Vermin may have chewed the wiring. In this case, call your technician
There may be an internal fault. In this case, call your technician
Doesn't cool effectively:
Is the air filter clogged/dirty?
Allow time for the room to cool if is it an exceptionally hot day
Is the temperature set correctly?
The indoor fan runs, but the air coming out is not cool (summer) or warm (winter):
Check the thermostat Temperature
We offer a comprehensive breakdown and service, which may be required.
There can be nothing more miserable than when your air conditioning in Dubai stops working. The heat can be pretty miserable and you want to be sure that this is something that gets fixed as soon as possible. AC repairs are important for your sanity as well as your health, especially during these hotter days in Dubai. You will want to be sure that you hire a professional Dubai air con repair to get your system up and running quickly so you can limit the amount of time that you and your family suffer. Contact us now.
AC Maintenance Dubai
Rest assured, All Done Ac repairing maintenance Co. LLC has an expert team of qualified professionals to assist with all general air conditioning maintenance procedures relating to your Ac system. Here at All Done, our helpful tradesmen are experienced in both new and old AC units.
A poorly installed or maintained Air Conditioning system will not provide a quality heating and cooling service in Dubai. As a customer service-focused company, we can ensure you are provided with the necessary information and end-to-end service you and your air conditioning system requires.
Chiller Maintenance Dubai
Chillers are an essential component of air conditioning systems for buildings and commercial spaces. These crucial components produce cold water to remove heat from the buildings. Apart from commercial spaces and buildings, chillers are also used to cool operational loads, including medical imaging paraphernalia, client-server rooms, and medical hallways. Most chillers rely on the mechanical operation of compressing a refrigerant to eliminate heat from the water.
Chillers are complex machines that are costly to purchase and run. That's why it's important to have a robust and period maintenance program that keeps them at optimal performance levels. As complex systems, it's important to hire only the most experienced and expert chiller maintenance service provider who got the resources and experience to handle them.
We are proud to offer our clients reliable, effective, affordable, preventive chiller maintenance in Dubai. We are one of the most trusted air conditioning system service providers for residential and commercial units. We offer reliable and consistent chiller maintenance service for all major global manufacturers with a complete guarantee for material and work.
Our aim is to maintain & sustain your Air Conditioning system for the long term. Contact us at +971 50 507 8247 or [email protected] to learn what preventative tactics you can use to ensure the longevity of your air conditioning system in Dubai.