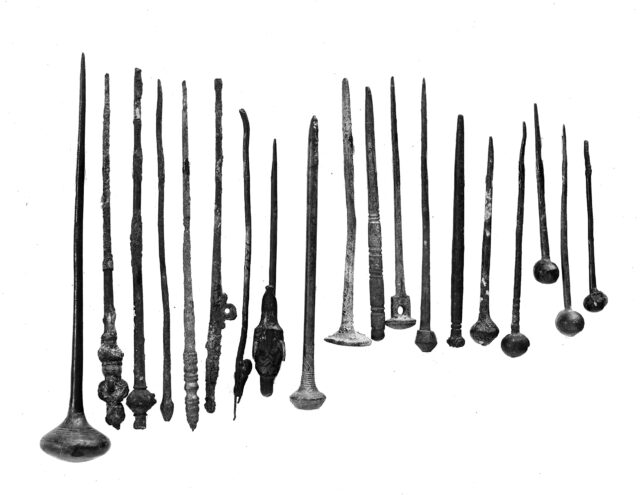 Last Updated on December 3, 2022 by Hooria Batool
It isn't easy to imagine a world without hair clips. Sure, hair ties would still be available, but what about our attractive yet functional clips, which come in a range of forms and materials and can be used for many purposes? Let's face it, and if you have hair, clips are a must-have accessory.
The perfect hair clips may make all the difference in styling, designing, and rocking specific hairstyles. That's why it's critical to understand which clip is appropriate for whatever situation and how to use it effectively!
Types of Hair Clips
It's all about your needs when selecting a hair clip. Do you require a clip when cutting your hair? Perhaps to style it? Or perhaps you're searching for something primarily ornamental. We've compiled a list of 15 different types of hair clips for you to peruse.
1. Claw Hair Clip
You likely have our first hair clip lying around the home. Claw clips are popular among women because they are pleasant and straightforward. In most cases, a claw clip style will sit directly at the back of the skull. A low ponytail can be secured with more minor variations. Secure a half-up style with pinback bangs. To top it off, unlike a traditional hair tie, they don't dent or wrinkle hair.
2. Bobby Pin
The bobby pin is the simplest and smallest clip on our list, and it may be used alone to pin up a section of hair or, in combination with hundreds of others, to create complicated couture designs.Bobby pins, which have one straight side and one grooved side, provide the most secure hold of these hair clips. Their tiny pin turn ensures that hair is held in place securely. In addition to basic black, they are also available in blonde and brunette tones.
3. Sectioning Clips
Sectioning clips, often known as alligator clips, keep vast portions of hair in place throughout the style process. They're comfy to wear for lengthy periods because of their long, thin design. Use them to add extensions, blow-drying, straightening, curling, braiding, and any other styling task requiring an additional hand. Clips for sectioning are a must-have!
4. Wave Setting Clips
Wave setting hair clip types protect the hair after style so that make-up may be applied. They are designed for professionals but are suitable for you. They're great for fastening nearly any hairdo without making a dent, and they're perfect for retro-glam designs like finger waves. Get your hands on wave-setting clips to boost your beauty aficionado game.
5. French Barrette
A French Barrette is tiny, metal, and has a fastener beneath that pops into place to lock it. It was first made in France. The basic shape has two straight metal lines on top; however, many materials are affixed to this top piece for colorful styling nowadays.Barretts can be minor and worn over the ear, or they can be huge and worn on the back of the head. They also provide a pretty solid hold on the head.
6. Snap Clip
These clips should bring back some memories for you. They're ideal for kids beginning to style their hair because of the simple snapping action. The fact that they are frequently brightly colored adds to their appeal! They are ideal for youngsters with fine hair because they don't hold a lot of hair at once.
Read More: What Is Ganguro Fashion? Everything You Need To Know About Ganguro Fashion
7. Banana Clip
This unique clip is ideal for fastening a large amount of hair at once. It is the most acceptable option for long and thicker hair because of the teeth in the center and the outside circle that locks together on one end. More significant variants composed of bendable, flexible material are available on the marketplace for women with thick, kinky hair. Choose a basic design for everyday use or a more elaborate design made of precious materials for a special occasion like a wedding.
8. Pearl Hair Clips
This look incorporates a variety of hair attachments, such as bobby pins and banana clips. To fulfill the bill, these styles must be coated in pearls, such as pearls of equal or various sizes, regardless of the shape of the clip. Pearl hair clips are ideal for showing a preppy style and are incredibly excellent for brides-to-be and romantic gatherings.
9. Double Prong Curl
The two-prong curl clip, like wave setting and sectioning clips, is only used for style. They're usually wrapped around a newly warmed curl to secure and keep their shape. Most ladies will wrap them around their heads to set the curls and then brush them out at the last time. Double prong curl clips can also be used the same way as wave setting clips by pressing a playing card beneath the top of the clip to prevent a crease.
10. Duck Bill Clip
The duckbill hair clip is another sound hair clip most commonly encountered in a hair salon. The sharp tip at the end of this long, thin clip is great for sectioning off delicate bits of hair without reaching for a comb, which is why stylists use them when cutting or highlighting hair. As a result, they don't hold as much hair as sectioning clips do. Unless you're a professional or need to divide off hair for braids, you might not require this variation.
11. Hair Ribbon Clip
Hair ribbon clips were most widely seen on small girls' or your mother's hairstyles in the 1990s! Clip bows save you the time and effort of tying up your hair and shaping ribbon into a bow. These bows come with a snap clip already affixed. You may get them in tiny or big sizes to assist you in creating a low ponytail or a lower half-up look.
12. Geometric Minimalist Clips
The backs of minimalist hair clips are thin and bare like bobby pins, yet they fasten into place like a french barrette without making a popping sound. They tend to keep hair nicely, as long as you don't attempt to stuff too much hair inside the clip, which it can't accomplish. These clips are commonly used as a temple adornment or to secure the front strands of the face in a half-up style at the rear of the head. They are frequently found in geometric designs such as basic circles or intricate astrological motifs.
13. The Bumpit Hair Pins
There was a time when securing your bumpit presented a whole other challenge. In this simple yet revolutionary style, a bumpit filler is attached to a small comb clip, making it easy to apply and secure the volumizing portion of your hair. If you want to give your up-do a sleek, elaborate look, or if you're going to make it stand out on a night out, use it.
FAQs