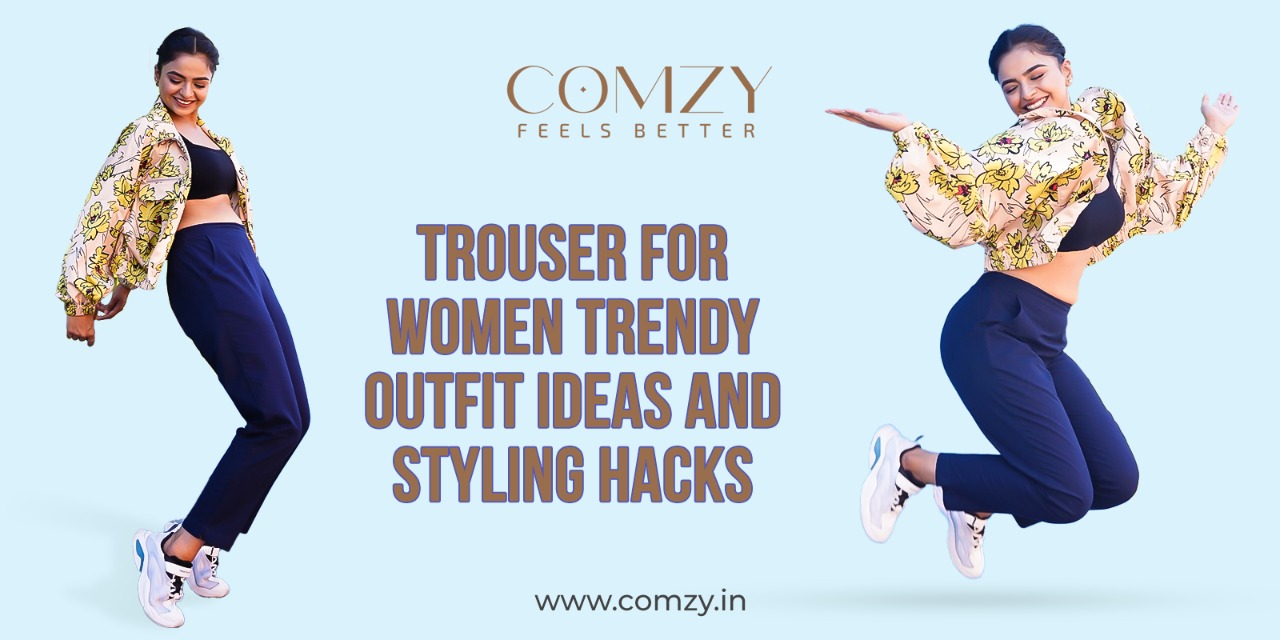 Trouser For Women: Trendy Outfit Ideas And Styling Hacks
There are a wide variety of styles, cuts, and lengths available for women's pants. Whether you are slim or plump, there are trousers that make you look perfect. This apparel is so adaptable that you may dress it up or down, wear it to work or on a date night, or even to a party.
All you need to do is find the perfect fit and style for yourself. Today, women have stopped wearing the same old black, skinny pants. There are a variety of colors and styles available that you can play with.
Therefore, we present you with ideas and hacks that can give you a totally different look.
Trousers for Women
If you are looking for a casual yet professional look, nothing can beat chinos. They give more of a classier look when compared with jeans, yet a more casual look when compared with dress pants. They are made of breathable cloth, which makes it easier to style. A suggestion is to always choose properly fitted pants, which shouldn't be too tight or too loose.
You can dress up a pair of chinos by wearing them with a blouse or a shirt. Wear a button-down shirt or blouse with chinos for a professional but comfortable look. Add some height with a pair of shoes for a well-balanced ensemble. Wearing patterned chinos with a fitted shirt and some boots is a laid-back way to channel an edgy style. It would be best if you tucked it in.
Cropped pants, known as culottes, are now all the rage due to their hipster good looks. They're perfect for a social brunch or lunch with friends and family. It's up to you to decide if you want to come off as poised or stylish with your fashion choices.
Pair your solid culottes with a graphic shirt and shoes for a more relaxed, modern look. Alternatively, you may dress them up with a lace shirt and heels. Wear a solid off-the-shoulder or cold-shoulder blouse with your patterned culottes to complete the look.
Paperbag Pants/Fashion Pants
They are also referred to as "statement pants." They provide all the comfort you need while maintaining a trendy, chic appearance. Typically, paperback pants have a tight belt that tugs at your waist and sits over your belly button.
Since paper bag trousers are loose-fitting, all you need is a form-fitting top to feel confident. Dress up your flat shoes with silver or gold jewellery for a more formal occasion. Paperbag trousers may also be worn with an off-the-shoulder or crop top for a more edgy, alternative vibe.
These pants are versatile enough to wear to a professional conference. You can dress it up by adding your favorite fitted jacket and a pair of black shoes.
Jogger pants can not only be used for jogging but are also among the most comfortable pants and all day lazy pants.
Joggers may indeed be a fashion statement. Either you can put on a sweater and a pair of shoes for a relaxed, laid-back style, or you can tuck in a striped tee and toss on a denim jacket for a casual but easy approach. If you want to seem modern, try pairing an off-the-shoulder shirt with heels and accessorizing with a statement necklace.
The following three pairs of pants are my personal favorites. They are so versatile and a perfect choice for every occasion.
People in India like these because they can be worn with traditional and nontraditional clothes. Palazzo pants may be dressed up or down as an alternative to dresses, depending on the occasion.
For a more formal look in the summer, try a camisole underneath your top. Choose a pair of palazzo pants with vertical stripes and pair them with a fitted blouse in a solid hue. To have a more traditional appearance, just layer a kurta over it. You can put together a cute outfit by combining a patterned palazzo with a white crochet top.
Wide leg pants and flared bell bottoms
Wide-leg, high-waisted pants are making a comeback. Wearing high-waisted, flared pants is a terrific way to cover your stomach. It's the perfect accessory to counteract your broad shoulders. The legs of a pair of bell-bottom jeans are drawn into a snug fit just above the knee before flaring out. Great for giving the illusion of height.
Put on a simple-fitting shirt, tuck it in, and accessorize it with your most cherished necklace. When going to a more formal event, you should wear an outfit where the top and bottom pieces are the same color. You may wear a shirt under it and then cinch your waist with a belt. Consider playing around with different textures. You can never go wrong with a lace-up or bare look.
At the end, you can go with any of the above women pants that suit your body type and comfort.